This page is dedicated to some useful resources for you, dear readers. Here you will find books, documentaries, blogs and Youtube channels I recommend you as well as some refers to brands and companies I support and work with.
(disclaimer: this section is constantly under construction, as I will be adding things as I discover them myself)
USEFUL RESOURCES
BOOKS
Minimalism / intentional living / decluttering / simple frugal living
Fumio Sasaki "Goodbye things"
Courtney Carver "Soulful simplicity"
Joshua Fields Millburn & Ryan Nicodemus "Everything that remains"
Gretchen Rubin "The happiness project"
Joshua Becker "The more of less"
Marie Kondo "The life changing magic of tidying up"
Annie Raser Rowland & Adam Grubb "The art of frugal hedonism"
Anuschka Rees "The curated closet"
Meik Viking "The little book of hygge"
James Wallmann "Stuffocation"
Sustainability / zero waste / conscious living / environmentalism / fast fashion
Bea Johnson "Zero waste home"
Elizabeth L. Cline "Overdressed: the shockingly high cost of cheap fashion"
Shia Su "Zero waste: simple life hacks to drastically reduce your waste"
Jonathan Safran Foer "Eating animals"
DOCUMENTARIES:
Minimalism / intentional living / decluttering / simple frugal living
"Minimalism: a documentary about the important things"
"Happy"
"A simpler way: crisis as opportunity"
Sustainability (pollution / conscious living / environmentalism / fast fashion / veganism)
"The true cost"
"Forks over knives"
"Cowspiracy"
"Food choices"
"A plastic ocean"
"What the health"
"Our planet"
Travel
For additional info on some of these amazing documentaries, check out this video I made about the 5 must-watch documentaries to inspire minimalism, simple living and sustainability:
BLOGS:
Be More with Less (minimalism, simple and intentional living, Project 333 capsule wardrobe)
The Minimalists (minimalism)
Live Conscious (environmentalism, sustainable and conscious living)
heylilahey (sustainable and ethical fashion, green beauty, travel)
Truncation (mindful style, mindful living, sustainable fashion)
Un-fancy (minimalist wardrobe, style)
YOUTUBE CHANNELS:

A small wardrobe (minimalism, minimalist wardrobe)
Alli Cherry (travel, sustainable living)
Eco boost (zero waste, sustainable living)
Fightmaster Yoga (yoga)
Kristen Leo (ethical living, fashion, zero waste)
La Scimmia Yoga (yoga in italian)
My green closet (ethical fashion, sustainable and conscious living, capsule wardrobes)
Madeleine Olivia (minimalism, sustainable living, vegan recipes)
Meghan Livingstone (simple, healthy living)
Sustainably Vegan (sustainable and conscious living)
The Minimalist Ninja (minimalism, simple frugal living, travel)
Use Less (minimalist wardrobe & lifestyle)
Yoga with Adriene (yoga)
PODCASTS:
Kalyn's Coffee Talk (positive mindful living)
MINIMALIST & SUSTAINABLE BRANDS and COMPANIES THAT I SUPPORT: 
AIRBNB: Since I discovered it a couple of years ago, I am a huge fan of Airbnb. I love how simple and quick it is to find a place to stay, cheaper and way more personal and authentic than hotels. The reviews and the booking system itself guarantee transparency and safety when booking and paying. It makes travel experiences more flexible, homy and more sustainable. Being in an actual apartment/home where you will be able to live like you were at home cuts down the costs and the environmental impact.
If you sign up here you can get a 25€ discount off of your first travel.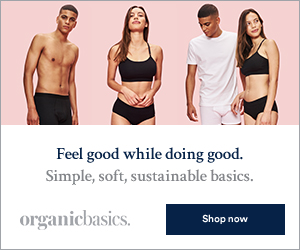 ORGANIC BASICS: sustainable and ethically made underwear, socks, basic t-shirts and activewear.
Get a 20% discount off your first order with the code SIMPLICITYXOB20
(visit the Organic Basics Website)
EVERLANE: this brand produces ethically made clothing at reasonable prices. They stick to quality wardrobe basics and staples to ensure to customers timeless pieces that will never go out of style (visit the Everlane website)
BETTER HELP: this is the online therapy platform I use on a weekly basis to talk to my counselor. As someone who struggles with mental health, it's important for me to acknowledge my feelings and issues and try my best to change for the better and live a life I can be happy and proud of. I've made a review of this service, which you can read here. 
If you sign up using this referral link you will receive your first of counseling for free.
(By clicking on some of the links above, you support the work I do with my blog and Youtube channel at no extra cost for you. Thank you <3 )
______________
The Simplicity Diaries © All rights reserved. 2017-2019